Create Sales & Marketing collateral easily with SOLIDWORKS Visualize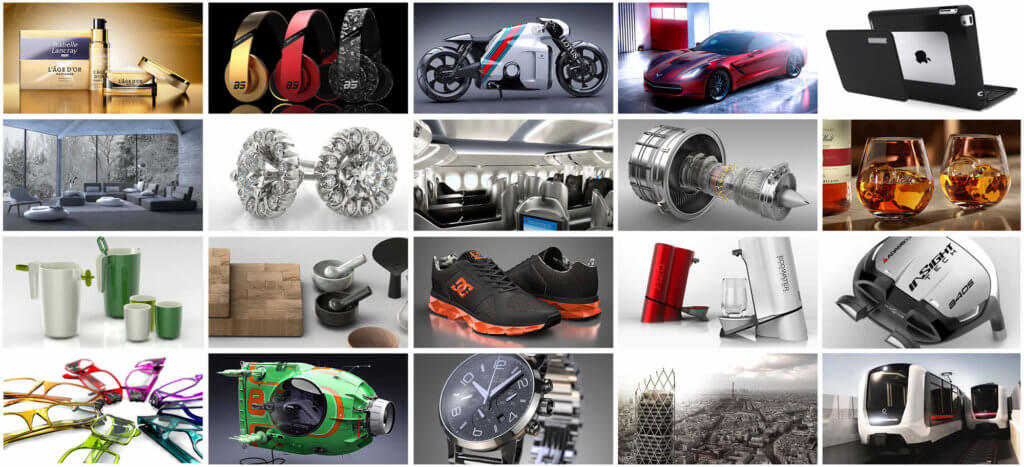 SOLIDWORKS Visualize software is the ideal tool for creating sales and marketing collateral, allowing marketers to easily create photo-realistic images, animations, and interactive content. With Visualize you can tell a deeper product story using your existing CAD data by generating photo-quality imagery, interactive animations, and 360 degree spins to effectively communicate the most complex design. Take a look at a few examples in the video below:
SOLIDWORKS Visualize includes the following features:
Demonstrate products more effectively with full animation of parts, models, appearances, camera views, and environments
Quickly show off the final design with one-click 360 degree spins
Create interactive web content (VR and Panorama)
Camera fly-by videos
Create interactive presentations
Present and compare varying design solutions side-by-side with multiple viewports
Unleash your creative side with customizable Camera Filters
Instantly boost productivity and performance with integrated Render QUEUE and render farms that easily scale to meet even the most demanding schedules
Create Product Movies
With the SOLIDWORKS Visualize you can create convincing, lifelike movies for product comparisons, print, web, design reviews, sales/marketing, or even interactive experiences. Take a look at the product animation below which demonstrates all the features of a cooking consumer product in a simple but impactful way:
Which medium better describes your design concept?
A technical drawing? Or computer generated animation that looks identical to filming the real product? In today's world, photorealistic content throughout the design process is not only the standard, it's actually expected. To make the right design and engineering decisions, you need to utilize photorealistic immersive content, much more than a technical drawing could describe. Understanding how designs and products look in the 'real world' is a key component in any design review or customer purchasing decision.
SOLIDWORKS Visualize enables marketers across all industries to create compelling visual content of their product designs that's a step beyond "photo-realistic" with unparalleled ease and flexibility. By creating compelling photo-quality visual content of products early in the design process, a more informed design comparison decision can be made, as well as receiving useful early feedback from sales teams and potential customers.
Benefits for your business
By improving concepts that are viewed throughout the design, development, and marketing phases, SOLIDWORKS Visualize helps users select, validate, improve, and sell the best and most robust design concepts before committing expensive engineering, prototyping, and marketing resources to the project. It helps reduce errors and ensure that products get to market faster:
Improve internal design, engineering, and sales reviews to help make more educated final decisions
Drastically reduce the cost and number of physical prototypes, helping to arrive at final design decisions much more efficiently
Deliver photo-quality imagery and content to marketing much earlier to help promote the newest products via web and print
Added time savings allow for more design time, which results in an overall better final product
How do you create your marketing collateral?
Do you have to invest in expensive photo-shoots or production filming? Do you have to wait until the final product is available before you create your marketing content? As you can see with SOLIDWORKS Visualize you can create sales and marketing content during the design process and be able to start marketing before your product is actually released.
Visit our image library to see examples of SOLIDWORKS Visualize ›