Timeline Editor for Unity 3D
Tell your story with Cinema Director, a MUST have timeline editor and companion to the Unity Game Engine for adding cinematic events to your project, from a team that has been helping Unity Developers since 2012.
Whether you are a technical or non-technical user of Unity, Cinema Director provides a robust tool-set to help you succeed. Save days, and even weeks of time inside of the Unity environment with a familiar, easy to use interface.
Now with full support for Unity 2017!
"If You're doing any kind of Cinematics in Unity, CINEMA DIRECTOR is an absolute must have."
—  Blackbird Interactive
"I'm using Cinema Director massively in my Android project and it works perfect. Great product and great support!"
— Adrián Domínguez
"I have tried every kind of sequencer, spending days and hundreds of dollars and even trying to build my own and failing. Finally a sequencer that doesn't crash!"
— Gabriel Smetzer
"This is a very elegant solution with a clear, straight-forward workflow that does not get in the way of the creative process. Well done!"
— Carlos Sanchez-Lozano
Who uses Cinema Director?
Game Developers
Small and large teams love using Cinema Director to add cutscenes and sequencing to their game in hours instead of days or months. Artists and other devs are more involved in the creation of cinematic visuals without a dependency on programmers.
Trying to get funding on Kickstarter or launch on Steam? Cinema Director can help, allowing you to make marketing trailers for your game using your existing game assets.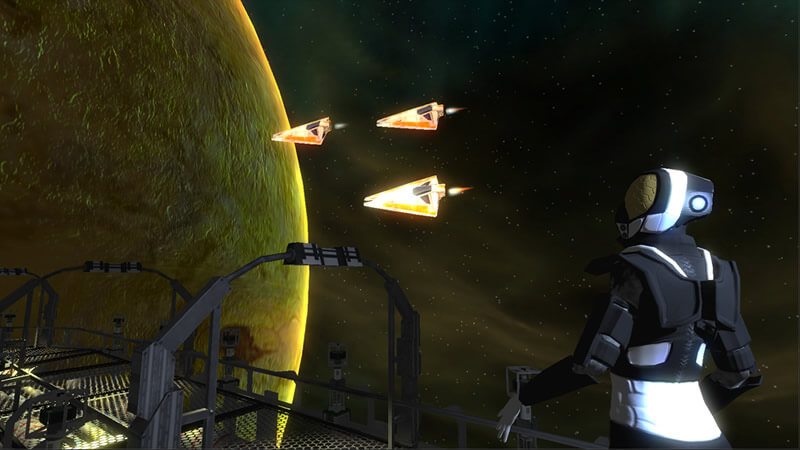 Machinima Developers
Machinima gurus will love using Cinema Director to quickly and easily make their Machinima movie project come to life, without having to learn scripting or programming.
Combine with Cinema Mo Cap and Cinema Pro Cams, for a quick, low cost turnkey solution to help populate a YouTube or Vimeo page full of awesome cinematic content based on the Unity game engine.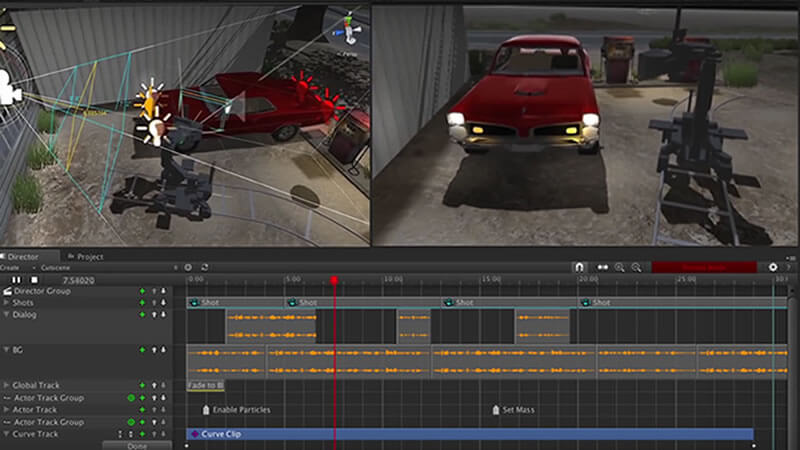 Film Professionals
Film professionals use Unity as a real-time pre-visualization tool for their film/movie/TV projects. Easily create shots, manipulate actors, control lighting, chose themes with little knowledge of Unity or programming required.
Combine with Cinema Pro Cams to use real world constraint lenses for their pre-visualization project.
Customer Example - Desktop
RECORE - Metroid Prime prequil created
With Cinema Director
Microsoft Studios trust Cinema Director for all of their cinematics in Recore. Watch the Trailer.
We worked closely with Microsoft Studios to develop the features and tools necessary to live up to the demands of today's AAA game development studio. These features used to create the game are incorporated into Cinema Director. Powerful visual editing for development teams small and large.
Customer Example - Mobile
The FORCE IS STRONG
With Cinema Director
EA: Capital Games used Cinema Director for development of Star Wars: Galaxy of Heroes in Unity. Watch the Trailer.
Cinema Director is the perfect tool for mobile game development. We have optimized the software to have minimal to no impact on mobile builds, but still give the full set of features that game developers demand. No matter what platform, be it desktop, mobile, or web, we don't stand in the way of the creative process.
Benefits
Supports desktop, mobile and web builds for Unity.
Share your project's concept with no restrictions.
Easily create cutscenes and game trailers for marketing.
Re-factor and re-organize your cutscenes without strain.
Access to a library of common actions and events that cover a range of cutscene requirements — without programming!
Extensible to meet your design needs with our custom API.
Familiar to other editors such as Adobe(tm) Premiere.
Features
Themes that change the look and feel of your scene.
Open source run-time code. You won't ship anything to your end users that you aren't aware of.
Easily create storyboards for your project.
Record your cutscene to individual frames for video editing. Choose any framerate or resolution
Create Shot tracks that allow control of camera cuts.
...And More!
Audio tracks that make editing Audio in Unity quick and easy.
An extendable Actions Library, containing over 60 events, that allow triggering of transitions, animations, physics and much more.
Live Timeline Scrubbing and Previewing. Make fine adjustments to your project without having to run unity in play mode.
Advanced Curve Editing for manipulating properties over time.
Actor and Multi-Actor grouping to keep your sequence organized.
Get Started with Cinema Director
Buy now from the Unity Asset Store